Public Library Trustees have the responsibility of ensuring that the library operates efficiently, effectively, and legally, and continually grows and changes to meet community needs.
Five members are appointed to the Jackson County Board of Trustees by the county commission. They work closely with the library director and administrators, overseeing operations and growth.
For more information on our board's goals and responsibilities, check out our Library Board Bylaws
View our Library Trustee Board Meeting agendas and minutes​:
(Currently Unavailable)
November 21, 2019
Meet your library board!
Suzie McGinley – Board President
Denise Toler – Vice President
Grace Arthur – Treasurer
Savanna Whited – Secretary
Katrena Ramsey – Board Member
Meetings are typically on the third Thursday of each month, at 5:30 pm.
They're open to the public, so feel free to sit in if you have any questions or concerns, or simply want to learn more about how the library works!
  The location alternates between our two branches.
Our next meeting is:
Thursday, December 19,
at 5:30 pm
at the Ripley Branch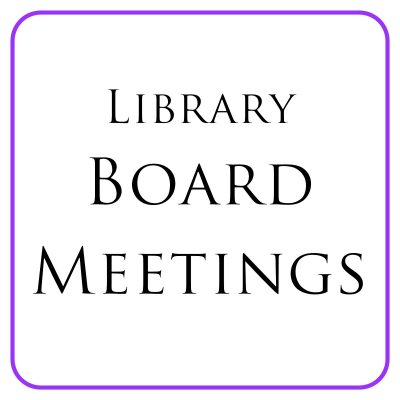 There's nothing to archive, yet! This section will be updated when our next board meeting agenda is released.