1,000 Books Before Kindergarten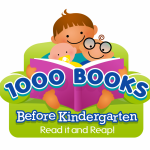 Miss Mallory and Miss Nichole have been working on getting our libraries into more programs that help instill a love of reading at early ages. 1,000 Books Before Kindergarten is a wonderful non-profit organization that offers a few different ways for parents to get their littles involved in reading as early as possible!
Reading logs will be available at both library locations starting in 2022, and the apps are linked below!
We both are working up a progress system, so be sure to visit your preferred location for more information, and to let us know you're starting up, so we can help celebrate each of your baby's milestones!
We'd like to note that 1,000 Books Before Kindergarten has allowed us to use their trademarked logo and name.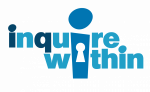 West Virginia Public Broadcasting launched a new grant-funded initiative, Inquire Within, with libraries throughout the state, and we are excited to announce we are a sponsored and participating library! Inquire Within provides libraries with programming (like STEM kits and extra educational information that can be used with our regular programming) linked to some PBS kid favorites, as well as a host of other items we can offer your child access to within the library!
Keep an eye out for a complete listing of items, activities, and things to check out in our libraries, which we will be receiving in the next month, as well as a launch party at each location!